➡️ Save 10% When You Subscribe 📦 Free Shipping On Orders $100+ ⬅️
news
10 Ways To Get Creative With Your Protein Smoothies
Published: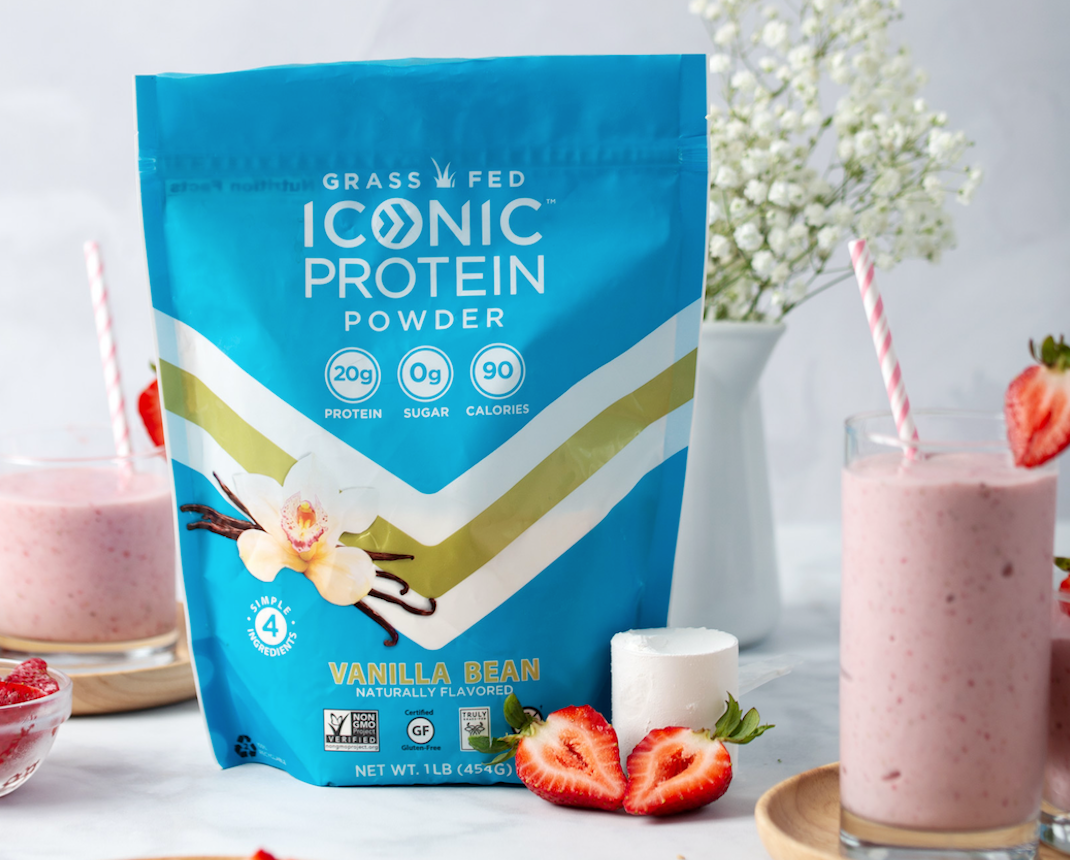 Do you drink the same smoothie recipe everyday? If so, here are 10 ways to get creative with your smoothie to make sure you're never bored with what you drink! These minor changes can make a huge impact on the taste and texture of your smoothie. Ready to level up your smoothie game? Read our smoothie hacks below!
Add Nut Butter
Adding any type of nut butter to your smoothie will make it creamier and give it a unique taste. There are so many different kinds of nut butters on the market, from the classic peanut butter to sunflower butter, you'll never get bored of your options! If you're looking for something on the lighter side, you can get peanut butter powder as a low calorie substitute for traditional peanut butter. 
Some honorable nut butter mentions are almond butter, cashew butter, pistachio butter, hazelnut butter, coconut butter and more! There are a lot of creative butters on the market from different brands where you can find a flavor as unique as snickerdoodle butter! 
Frozen Fruit
Adding frozen fruit to your smoothies is key if you're trying to make a thick smoothie or smoothie bowl! The more frozen fruit you add, the thicker your smoothie becomes! You can find frozen fruit in the freezer section of almost any grocery store, or you can freeze some yourself! Adding fruit to your smoothies can up the sugar content of your smoothie, so if you're watching out for that- make sure to add a fruit that's lower in sugar like berries! Check out our full list of low sugar fruits here!  
The great thing about adding frozen fruit to your smoothies is that you really only need a handful to make your smoothie thicker. The fruit taste doesn't have to overpower the rest of your smoothie if you don't want it to. If you're adding nut butter and fruit to your smoothie, the butter will most likely overpower the fruit taste! But if you are craving something fruity and tropical, just make sure to add more fruit than the rest of your ingredients! 
Some fan favorites of frozen fruit for smoothies include banana, mango, raspberries, blackberries, and pineapple!
Greens
There are many green veggies you can add to your smoothie! Our favorite is spinach! The best part about adding spinach to your smoothies is you can't even taste it! Even the pickiest of eaters won't taste added spinach if you have something like chocolate protein powder or nut butter hiding the taste. If you are trying to trick a picky eater into eating their greens, the only downside of adding spinach is that it may make your smoothie green! Kale is also a super popular green to add into your smoothies!
Adaptogenic Mushrooms
To start off, we will answer your first question, NO this does not mean your smoothie will taste like mushrooms! There are so many different types of adaptogenic mushrooms on the market, you really can't go wrong with which one you end up adding to your smoothies. Most of these adaptogens won't change the taste of your smoothie by much, but can be added to boost energy and brain function! You can do your research and find the adaptogens that suit your needs before you purchase them or you can buy a pre-mixed adaptogen blend if you're open to trying multiple different kinds! You can read more about the different kinds of adaptogens in our other blog post!
P.S. Speaking of adaptogens…
Our NEW Keto Collagen Coffee is launching this May and we partnered with Four Sigmatic (you know, the 'shroom experts) and used their blend of Lion's Mane and Reishi in our powder. Read more about our new product here! 
Honey or Syrup
If you're looking for a way to sweeten your smoothie, adding honey or maple syrup will do the trick! Honey can also aid in digestion and has vitamins B and C in it. Maple syrup is a good source of iron and has antioxidants. Honey and syrup are great alternatives to adding sugar to your smoothies and really cure that sweet tooth of yours. 
Switch up your base liquid
Switching your smoothie base may sound crazy to you especially if you religiously use a certain milk! One of the best and most simple ways to get creative with your smoothie is changing up your milk source. Maybe you're into the classics and use dairy milk, maybe you use oat milk, or maybe you are a little wild and use flavored milk, whatever you use, it's never too late to branch out and try something new! If you're looking to get extra protein in, pour a ready to drink ICONIC shake into your smoothie as your base liquid! If you aren't open to changing your base liquid, you can change the amount you pour into your smoothie, to make it either thicker or more liquidy!
Some dairy free milk alternatives to look out for:
Coconut milk, almond milk, oat milk, soy milk, hemp milk, pea milk, cashew milk, rice milk
Chia Seeds
Chia seeds can add extra protein to your smoothies and won't change the taste of it. They are packed with antioxidants and omega-3 fatty acids. This superfood can change the texture of your smoothie and change up the look of it depending on if you top your smoothie with it (Instagram story anyone?). However you end up using the chia seeds, whether you blend them or top your smoothie with them, they will definitely make your smoothie more interesting!
Protein Powder
Ah, did you see this coming? Changing your protein powder flavor will dramatically change the taste of your smoothie. If you're looking for an easy swap without changing any other ingredients that you use, try another protein flavor. We have Chocolate Truffle, Vanilla Bean and Cafe Latte, so whichever flavor you choose, it will definitely add that extra oomph to your smoothie! One of our favorite protein flavor hacks is to mix two together- for example, if you're craving a mocha flavor mix Cafe Latte and Chocolate Truffle together! Our Cafe Latte flavor has 100mg of caffeine (from Colombian Coffee) so adding this flavor to your morning smoothie will replace that cup of coffee you may need during the day.
Nibs or Chips
Okay, no not THAT kind of chip. We're talking about milk chocolate chips, dark chocolate chips, white chocolate chips, peanut butter chips, you name it. Any kind of these sweet chips will add to the flavor of your smoothie or can be used to top your smoothie to make it more aesthetically pleasing. Cacao nibs are similar to dark chocolate chips but don't have as much sugar and fats.  Cacao nibs are more bitter tasting than a normal chocolate chip. 
 Xanthan Gum
This gum can be used to make your smoothies thicker and more malt like without adding extra ingredients. Xanthan use is to bind everything together in your smoothie. This won't change the taste of your smoothie by much, but it will change the texture (aka it's sole purpose). If you're not familiar with the macros of Xanthan Gum, it usually has less than 30 calories per serving and is composed of carbohydrates (less than 10g) and sodium.
Switch up your smoothie today and try one of these ingredient suggestions! Let us know what you do and be sure to tag us @drinkiconic 
Need some recipe Inspo? Check out some of our favs below!