➡️ Save 10% When You Subscribe 📦 Free Shipping On Orders $100+ ⬅️
Chocolate that's actually good for you? Yes, please!
You work too hard to be given ordinary old chocolate. Enter Chocolate Truffle. Flavored with real cocoa powder and light natural sweeteners while boasting 20g of grass-fed protein, this elevated take on chocolate milk will awaken your inner-kid while nourishing your real life adult.

CHOOSE ICONIC.
BE ICONIC.
ICONIC is about choosing yourself. Choosing your health, your happiness, your own success. Our products make it easier to nourish your body and mind your way because you're doing amazing.

Grown Up Chocolate Milk!
With 4 unique flavors, all with 0g of sugar, 20g of the highest quality grass-fed protein, and 1-2 Weight Watchers points, we have something for everyone!
We know that finding the right foods to fuel your day can be challenging. Oftentimes it feels like we are compromising on something. We're either eating poor quality foods that taste good, or eating high quality foods we need to choke down. 
Not anymore! We are proud to say that ICONIC Protein drinks are the best of both worlds - you truly can have it all. Stick to your diet while still enjoying the foods you eat and drink. 
YOU DON'T NEED TO STOP EATING CHOCOLATE TO LOSE WEIGHT.
It's no secret that a little bit of chocolate can go a long way, especially when it comes to weight loss. In fact, many women have claimed that adding a daily dose of this decadent chocolate to their diet has helped them lose weight and feel satiated without having to sacrifice flavor.
So, if you're looking for a delicious and nutritious way to help jumpstart your weight loss journey, consider adding this creamy, decadent chocolate into the mix!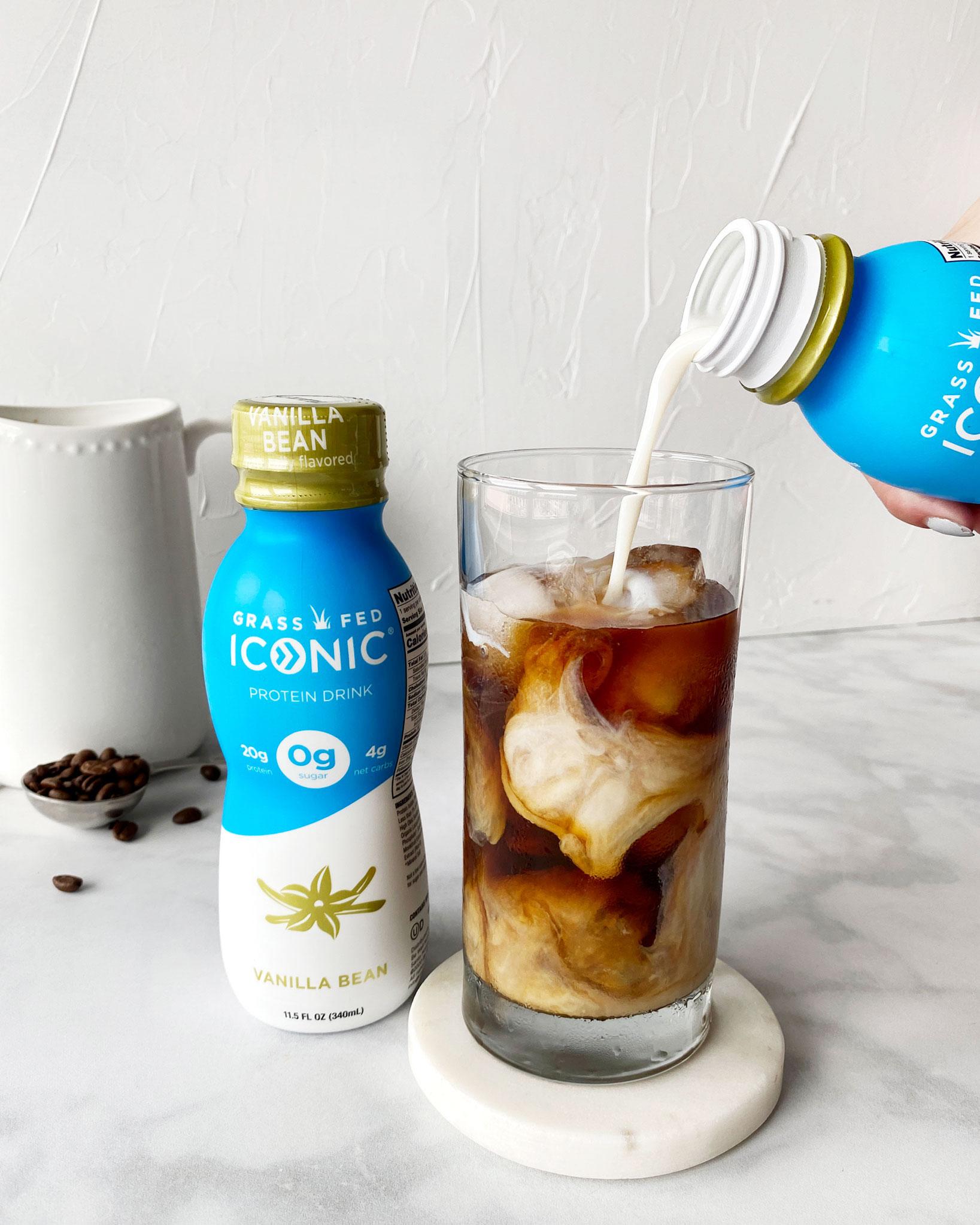 Our shakes provide a quick & tasty low-calorie serving of protein with a touch of sweetness. All flavors of ICONIC have 0g of added sugar!

ICONIC is Non-GMO Project Verified, lactose-free, gluten-free, soy-free, hormone-free, pesticide-free, kosher, & contains no artificial sweeteners or ingredients. ICONIC is also a great source of prebiotic fiber which aids in digestion! Unlike other protein shakes, ICONIC provides a complete amino acid profile and BCAA's for easy digestibility and a healthy dose of electrolytes. Our milk protein isolate is made from the natural blend of 80% casein (slow absorbing) and 20% whey (fast absorbing), which provides optimal muscle recovery and keeps you fuller longer.
FEED THE BODY.
NOURISH THE MIND. 
CHALLENGING THE STATUS QUO. 
We believe that food can be both the problem and the solution to better health and vitality. While conventional wisdom would have you believe that pills and fad diets are the quick fix to life's problems, we believe that conscious, balanced nutrition and sustainable lifestyle changes make all the difference. At ICONIC, our mission is to provide you with clean, high protein foods that help you feel sustained, nourished and energized all day long—because a busy lifestyle doesn't mean you should have to compromise on good health.

STOP DRINKING GROSS PROTEIN.
All ICONIC shakes are packed with 20g protein... BUT they are also full of other tasty and nutritious functional ingredients. Take our fan-favorite, Cafe Latte, for instance - it provides 100mg of caffeine from ethically sourced Colombian Coffee beans. Our newest addition Cacao + Greens has a full serving of organic veggies from organic broccoli, kale, and spinach - and it tastes like chocolate! Even traditional flavors like Chocolate Truffle and Vanilla Bean are packed with electrolytes and antioxidants!
MEET FOUNDER, BILLY BOSCH
I don't know about you, but by my late teens, I knew most fast food value menus by heart. I found out the hard way that working out doesn't absolve you from off-the-rails food habits. By my mid 20's, I was prescribed pills for chronic health issues I associated with people decades older. 
Nutrition got me into this mess, I believed it would get me out of it. I sought out Registered Dietitian Molly Kimball who gave me another option: clean up my diet! I needed something healthy, simple, and convenient, but there was nothing I could buy that fit the bill. 
ICONIC was made to meet a tall order of requirements: low sugar, high-quality grass-fed milk protein, non-GMO verified, absolutely no artificial ingredients or sugar alcohols, and only a few grams of sugar for a lightly sweetened taste. Plus, it had to be shelf stable, ready to grab-and-go, and of course, delicious!  I got myself back on track and by creating ICONIC, I hope you do too!
We have worked tirelessly to bring you the best possible protein drink around. 
Well first, what makes ICONIC so special?
For starters, we source only the highest quality ingredients to ensure our products are both nutritious and delicious! 
What makes ICONIC taste so good? Each serving of ICONIC boasts 20 grams of complete protein from grass fed cows' milk to fill you up without slowing you down. Truly grass-fed means that our cows feed on pasture over 95% of the year, with plenty of room to roam. ICONIC is also Animal Welfare Approved by A Greener World.
OUR OTHER ICONIC FAVORITES
IMMUNITY COFFEE
GET HEALTHY, STAY HEALTHY!
Immunity Coffee is a project we've been working on behind the scenes for over 2 years. It's the next step in our mission to improve the human diet and an extension of our commitment to ethical & sustainable sourcing practices.
Flavors come in both Mocha and Vanilla. They are a tad sweet with the bold roasted flavor of pure Arabica coffee sourced straight from Colombia.
ICONIC PROTEIN POWDERS
LET'S GET CRAFTY!
On the go? Making pancakes? Crafting a smoothie? ICONIC Protein powders are perfect to flex across various recipes to add a punch of delicious protein to your favorite recipe. 
In a hurry? No worries, these powders mix perfectly with water, milk, or your favorite milk alternative. 
We took out the crap you see in many protein powders on the market and left you the purest, simplest, most delicious protein powder you'll ever try! For real, we mean that! 
With 4-5 ingredients in our ICONIC Protein Powders, you can trust that what you see is what you get. 
Use left/right arrows to navigate the slideshow or swipe left/right if using a mobile device