➡️ Save 10% When You Subscribe 📦 Free Shipping On Orders $100+ ⬅️
recipes
WFH Menu with Sweetly Selina
Published: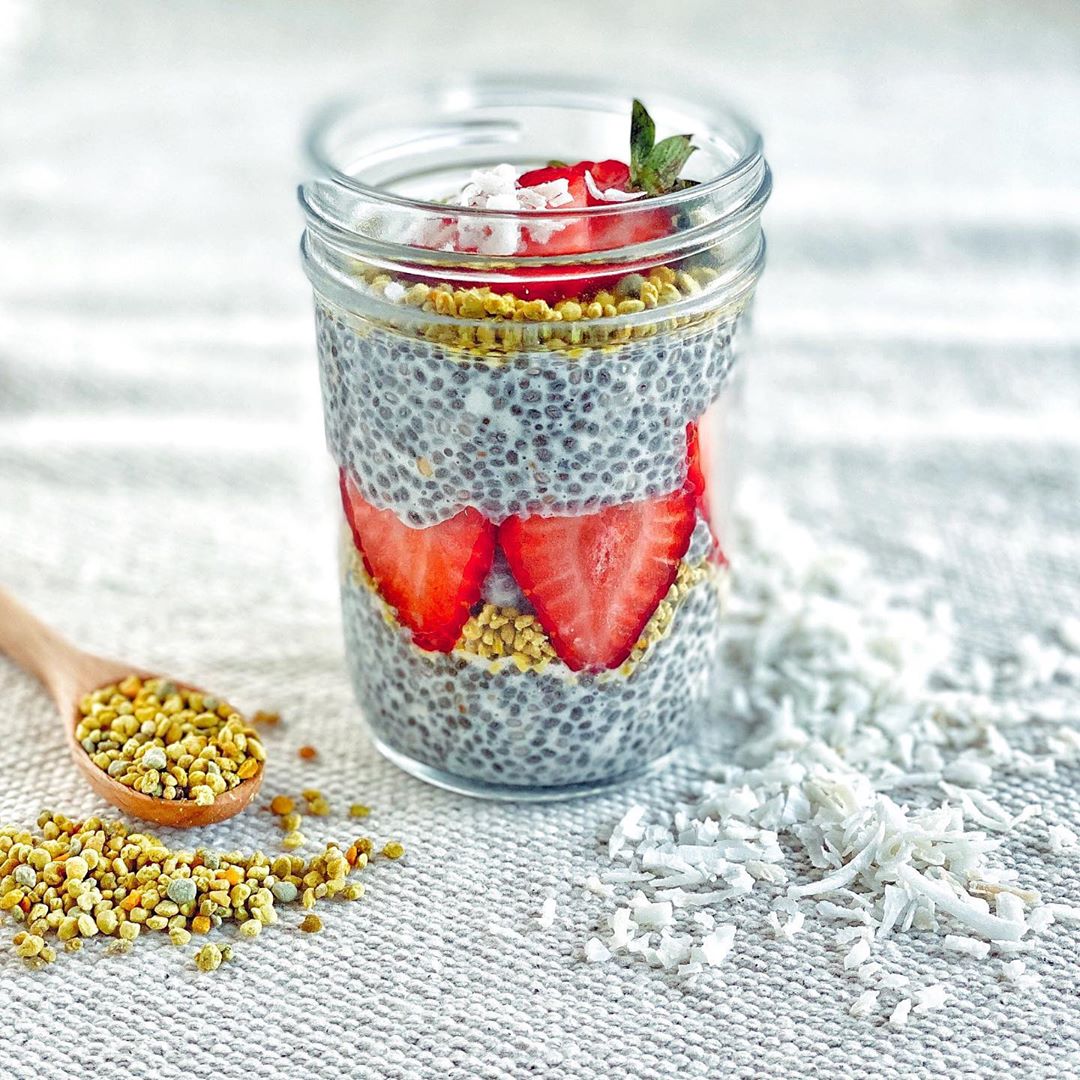 We're all working from home, and if you're like us, snacking A LOT. We've teamed up with our foodie friend Sweetly Selina to bring you a healthy breakfast, lunch, dinner, AND dessert recipe to keep you full and minimize fridge raids. Enjoy!
Breakfast: Chia Coco-Berry Parfait
Serves 1
You will need:
1/4 cup chia seeds
1/2 cup coconut milk
Handful of strawberries
1/4 cup shredded coconut
1 teaspoon vanilla extract
Sweeten to taste with sweetener of choice
*optional 2 tablespoons bee pollen
Steps:

Thoroughly combine chia, milk, sweetener and 2 tablespoons of shredded coconut to leave over night in refrigerato

r.

Add pudding to cup or bowl of choice.
Have fun layering with strawberry slices, rest of shredded coconut and bee pollen.
Lunch: Harvest Buddha Bowl
Serves 2
You will need:
1 cup brussel sprout halves
2 tablespoons pomegranate balsamic vinegar (regular balsamic works great too)
1 medium sweet potato sliced into ribbons
2 soft boiled eggs
Olive oil
Salt to season
Dressing:
2 tablespoons hummus (tahini works perfect also)
1 tablespoons manuka honey
1 teaspoons Dijon mustard
Water to thin
Garnish:
Sprouted pumpkin seeds
Pomegranate seeds
Steps:

Preheat oven to 350 degrees.
Toss and coat sweet potato ribbons evenly in 2-3 tablespoons of olive oil. Spread over lined cookie sheet and season with some salt. Bake in oven for about 15-20 minutes.
For brussel sprouts: coat evenly in 2-3 tablespoons of olive oil and balsamic vinegar. Transfer to a lined cookie sheet, add some salt and bake for about 45 minutes or until crispy.
To make dressing, whisk all the ingredients except water. Add a tablespoon of water at a time to achieve a thick, yet runny consistency.
To assemble: in each bowl, add balsamic brussel sprouts, roasted potato ribbons and halved soft boiled egg. Drizzle with dressing and garnish with pumpkin seeds and pomegranate seeds to preference!
Dinner: Bruschetta-Feta Chicken Stuffed Delicata Squash
Serves 2
You will need:
1 Delicata squash cut length wise
6 oz shredded chicken (if vegetarians, 1 1/2 cup lentils)
1 large diced Roma tomato
2 tablespoons minced red onion
2 cloves of garlic, crushed
Handful of ribboned fresh basil
2 tablespoons balsamic vinegar
1/4 cup feta cheese (optional if dairy free)
Olive oil
Salt and pepper
Steps:

Preheat over to 350 degrees. Thinly coat halved delicata in olive oil, place faced down on a lined cookie sheet. Sprinkle with salt.
Put squash in over to bake for 45 minutes to an hour, out until cooked all the way through.
In a medium bowl, combine diced tomato, onion, garlic, balsamic vinegar, 1 tablespoon of olive oil, 1 teaspoon salt, pinch of pepper and mix.
Then add chicken (or lentils) and feta.
Once squash is done baking, stuff with bruschetta-feta filling and optional crack of pepper to serve.
Dessert: Cacao Superfood Bark
You will need:
1/2 cup cacao powder
1/4 cup cacao butter
1/4 cup coconut oil
1/2 teaspoon of superfood powders of choice, I used lacuma, maca, lacuna, chaga, ashwagandha
2-4 tablespoons raw honey
1/2 teaspoon Celtic sea salt
1 tablespoon brewed coffee
Toppings:
Small handful of each pomegranate seeds, raw walnut pieces and coconut flakes
Steps:
Line a cookie sheet with either waxing paper or parchment paper
In a small saucepan, melt cacao butter and coconut oil together.
Then turn off heat and slowly add cacao powder and coffee.
Once completed combined, mix rest of ingredients, except toppings.
Spoon out about 2 tablespoon worth drops of melted bark on lined cookie sheet.
Sprinkle toppings to cover surface of bark rounds.
Flatly place cookie sheet in freezer to harden bark for about 1-2 hours
Take out of freezer and enjoy!
If you want more recipe inspo, check out our top 10 food prep meals here.