➡️ Save 10% When You Subscribe 📦 Free Shipping On Orders $100+ ⬅️
recipes
National Smoothie Day Recipes
Published: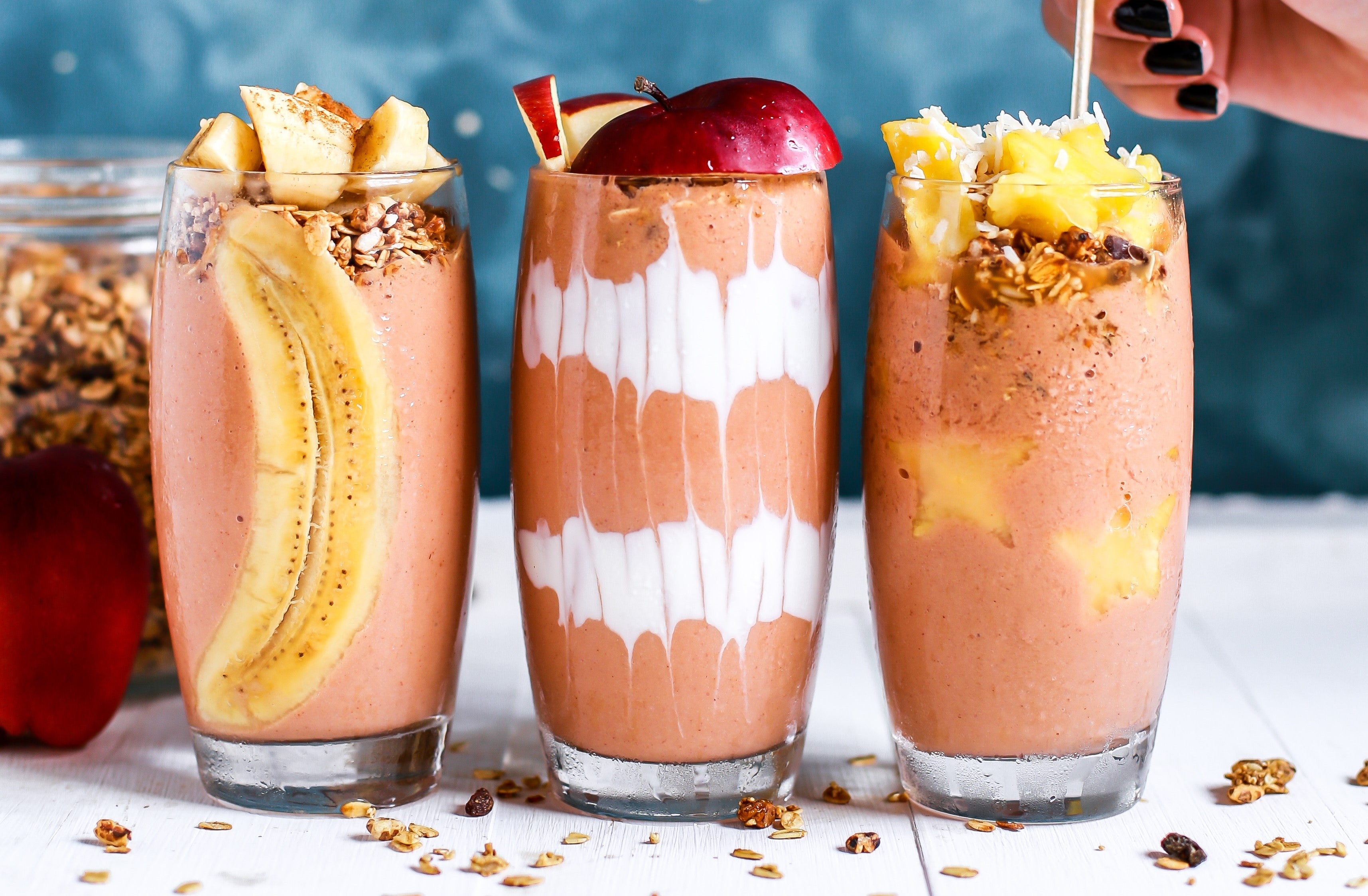 To celebrate National Smoothie Day on June 21st, we've put together some of the best healthy smoothie recipes from our favorite nutritionists, as well as some statistics from our survey of smoothie lovers across the country!
94% of participants like to add chocolate to their

 

smoothies

84% of responses indicated that

 

smoothies

 

are a meal replacement, especially when on the go 
70% have

 

smoothies

 

for breakfast
40% said banana was their "go to"

 

smoothie

 

ingredient, while the next runner up was greens at 17%
17% of people have a

 

smoothie

 

every day
Some of the most unique and interesting

 

smoothie

 

mix-ins: roasted banana, Girl Scout cookies, clementine juice, lavender, mint, walnuts, strawberry Jello
98% of responses indicated a cup v. bowl preference! 
Chocolate-Covered Strawberry Smoothie
1 packet or 1/3 cup of ICONIC Chocolate Truffle protein powder

7-8 medium frozen strawberries, mulled
6-8 oz of unsweetened almond or coconut milk, or water for desired thickness
Method:
1. Add all the ingredients to a blender
2. Add ice for a thicker smoothie, add more liquid for a thinner smoothie.
3. Blend everything together and enjoy!
Tropical Cinnamon Smoothie
You will need:
1/2 cup mango chunks

1/2 medium banana
1/2 cup steamed, then frozen cauliflower florets (or rice)
1 cup unsweetened non-dairy milk
1 tablespoon ICONIC vanilla protein powder
2 tablespoons unsweetened shredded coconut flakes
1/2 teaspoon ground cinnamon
1. Blend all ingredients together and add more non-dairy milk or water to reach desired texture and thickness.
Recipe by Casey Seiden MS RD CDN CDE, a NYC-based dietitian 
Instagram @eat.well.together
Unicorn Smoothie Bowl
Pink smoothie 
- 1 cup frozen raspberries
- 1/2 frozen banana
- 1/2 cup cauliflower rice frozen
- 1/2 cup unsweetened cashew milk
- 1 tsp beet powder 
- 1 scoop ICONIC Vanilla Protein powder
Purple smoothie
- 1 cup frozen blueberries
- 1/2 cup frozen cauliflower rice
-  1/2 cup unsweetened cashew milk 
- 1 scoop ICONIC Vanilla Protein powder
Blend all together and separate in a bowl... they will be supa dupa thick!! Topped with more banana and hemp seeds! Enjoy! 
Jessica Cook Registered Dietitian 
@jessica_sveltenutritionist