➡️ Save 10% When You Subscribe 📦 Free Shipping On Orders $100+ ⬅️
news
What Exactly IS Golden Milk, Anyway?
Published: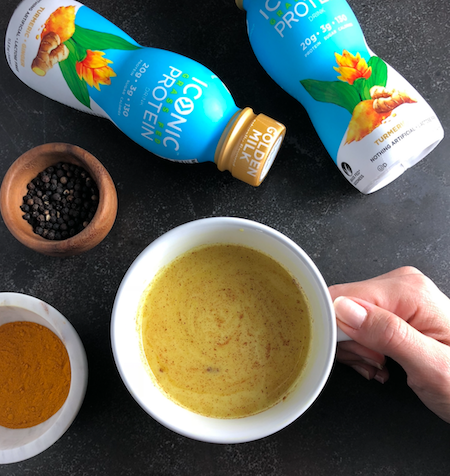 Golden Milk is one of the most buzzed-about beverages of 2018, and for good reason. Here's what you need to know.
Popular in Ayurvedic (traditional Indian) medicine, this golden-hued beverage has skyrocketed in popularity for its relaxing, balancing and soothing properties-- not to mention its unique, slightly spicy taste. But what exactly is 'Golden Milk' and where did it come from?
In Ayurvedic medicine, it's called "haldi ka doodh", which directly translates to turmeric milk.
Golden Milk is typically made with milk (coconut, dairy or nut), infused with turmeric and various spices like black pepper, cinnamon, ginger and cardamom. It has become popular for its anti-inflammatory and adaptogenic benefits.
Adaptogens are botanicals that increase your bodies ability to adapt to biological and physiological stress. They're crucial in regulating your hormones and boosting your immunity. Adaptogens are great for helping your body deal with stressors that can develop into fatigue and lower energy levels.
Our ICONIC Protein Golden Milk recipe was created to give you a boost of adaptogens with ingredients that powerfully work together. We source our turmeric from India, which gives Golden Milk its potent golden color. The active ingredient in turmeric is called curcumin which is popular in Indian diets. It's a great antioxidant for rejuvenating the cells, supporting your immune system and working as a digestive aid.
Next, we add in gingerols, the active ingredient in ginger. It's a warming and energizing herb great for cleansing, healing, immune support, digestion, and recovery. It synergizes turmeric as well as our next ingredient- black pepper.
This one may be surprising to some people, but black pepper actually increases the absorption of curcumin (the active ingredient in turmeric). It also brings out the warming flavors of the turmeric.
Our Golden Milk contains the functional organic ingredients above as well as organic cinnamon which is known for its anti-inflammatory properties that may help reduce the risk of disease. When combined with our signature grass-fed protein and light natural sweeteners, we've created to perfect harmony of ingredients help you fuel through your day to perform optimally from morning to night.
Finally, what does our Golden Milk taste like? The most common answer we hear is "eggnog" or "like Christmas," which we think has to do with the light sweetness and hint of spice from the cinnamon. There's only one way to really find out: try it for yourself!
Click here to shop our ICONIC Protein Golden Milk.
Sources:
https://www.prevention.com/eatclean/golden-milk-recipes
https://www.globalhealingcenter.com/natural-health/what-are-adaptogens/
https://www.mindbodygreen.com/0-26912/move-over-psl-5-reasons-to-sip-golden-milk-today.html