➡️ Save 10% When You Subscribe 📦 Free Shipping On Orders $100+ ⬅️
news
Welcome Our Newest Drink: Cacao + Greens
Published: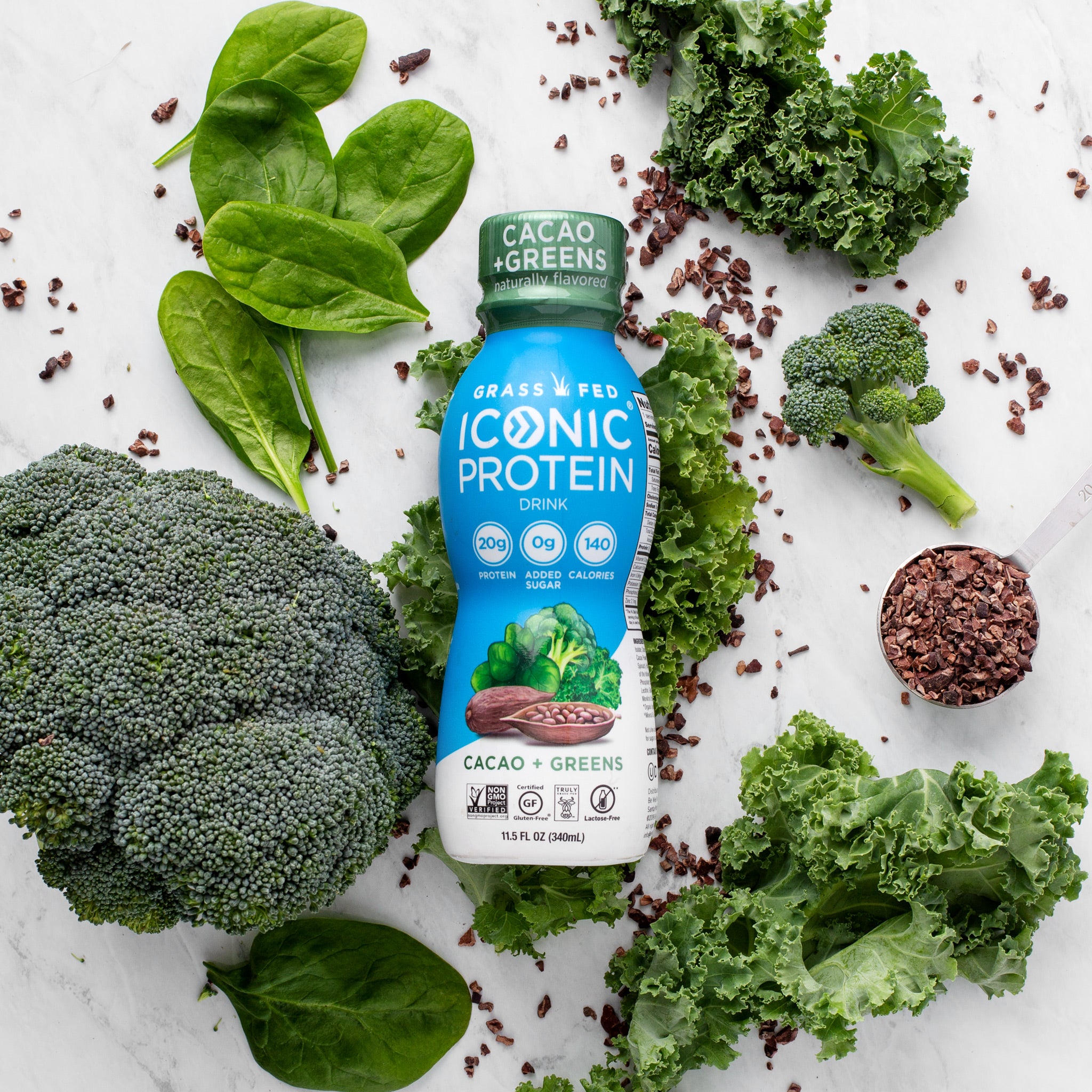 Say hello to the newest member of the ICONIC family, Cacao + Greens!
Our whole mission at ICONIC Protein is to make healthy, easy, good-tasting protein more widely available. We think we've got the healthy & easy pretty dialed in thanks to our ready-to-drink beverages. You need a grab-and-go snack or pick-me-up? We've got you covered.
And as far as taste goes, we've never been ones to skimp on flavor. That's why we use the good stuff, like Colombian coffee in our Café Latte, cocoa powder in our Chocolate Truffle, real turmeric in our Turmeric Ginger, — you get the point. So our next flavor had some pretty big shoes to fill.
Well, we think finally we filled them! We're proud to introduce ICONIC's newest flavor: Cacao + Greens. It's got the great-tasting ICONIC flavor you've come to know and love, thanks to antioxidant-rich unroasted cacao (think chocolate, people!), with the added bonus of one serving of organic veggies in each bottle.
What Cacao + Greens can do for you.
As well as 20g of Grass Fed Verified protein, here are some fast facts you should know about our latest flavor:
It's got a full serving of organic vegetables (organic kale, brocolli & spinach!)

It's got 150 mg of antioxidant polyphenols from unroasted cacao

Growth hormones & antibiotic-free protein

It's lactose-free

It has 0 g of added sugar and just 1 g of sugar total

It's verified by The Non-GMO Project

It's soy-free

It's carrageenan-free

It's certified gluten-free

It has 4 g of fiber

It's keto friendly

It has calcium, phosphorous, and zinc
That's a lot to take in, we know. But we're pretty proud of all the goodness we've been able to pack into each bottle. Oh, and did we mention that the bottle is BPA-free, too? Because we've made our drink too good for you to ruin it with the packaging.
Why cacao?
Cacao is a pretty powerful superfood. People have been eating cacao for thousands of years. (And, yes, it's related to chocolate. We get chocolate by gathering cacao seeds, fermenting them, and grinding them up.)
Cacao's got serious health benefits, which include:
A ton of antioxidants (we've got 150 mg per bottle thanks to this powerful ingredient)

Calcium

Flavonoids, which support cardiovascular health

Theobromine, a neurotransmitter that can boost your energy and mood (it's even used to treat depression)
So are we saying chocolate is good for you? Put down that Godiva bar, friend. It might be good for your mood but, unfortunately, a lot of these health benefits are lost during the chocolate creation process, which uses high heat.
That's why we stuck with raw cacao in our newest flavor. It still tastes pretty delicious, though, so don't sweat.
Let's talk antioxidants.
Yes, let's. You already know antioxidants are good for you. But do you know why? (Don't worry, we did our homework). Turns out, "antioxidant" is more than just the health kick buzzword of the year.
Inside your body, there are some molecules hanging out known as free radicals. While they sound like they'd be fun at a party, they can be dangerous for your health. When free radicals accumulate, they put your body into a state of oxidative stress, which can damage your cellular structures and even your DNA. Chronic oxidative stress is linked to a big pile of major health concerns, including cancer, heart disease, and type 2 diabetes.
Enter antioxidants, the hero of the day. These bad boys fight oxidative stress, helping your body defend itself and protecting your overall health. If you want a proactive way to fight disease, antioxidants are your ally.
So why'd you add greens?
With everything cacao has to offer, it could probably have stood alone as a flavor. But why stop there? We wanted to make our newest flavor even more powerful, so we added a full serving of vegetables. Our organic greens blend of kale, broccoli, and spinach integrates seamlessly into this tasty beverage.
Maybe you always get your daily servings of fruits and veggies. If so, rock on, superstar. But if you're a busy person who's trying to do right by your body with limited time, we're here to help. With a full serving of nutrient-rich, organic vegetables, each Cacao + Greens bottle helps you give your body what it needs to thrive.
So whether you're looking for a way to boost your health, fill yourself up with clean and complete protein, or just make your parents proud by eating drinking your veggies, check out Cacao + Greens. We're excited to be stocking this hyper-healthy, flavorful drink to give you yet another way to live the ICONIC life.